Classic corner: Chart recent Ford history with this feisty '40'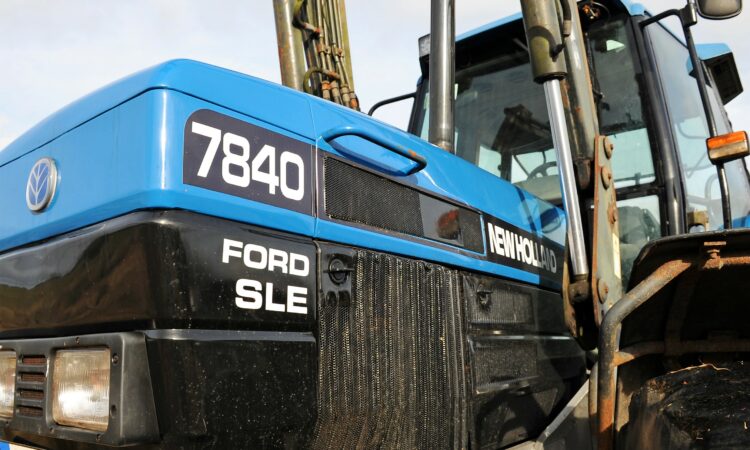 "Fords and New Hollands are popular around here," remarked Martin Kirrane of Co. Sligo, as he explained the origin of this particular New Holland 7840 SLE (pictured above).
"We bought this one in from Manchester." That was 10 years ago and it has been quietly working away on "light duties" at the family farm ever since.
After eight years of braving the Sligo weather Martin decided to do something about its aging appearance, so he set about stripping the panels for a re-spray, replacing the lights and doing many other small tasks to freshen it up.
The result is this reasonably smart-looking machine. It is still a little under-employed at present, which is one of the reasons that he has decided to put it up for sale.
"As far as I know the Quicke loader was originally fitted to the tractor when new," he commented. That would have been back in 1996, when it was delivered to an English dairy farm that hardly over-worked it either. In total, it is now only showing just 3,300 hours on the clock.
Naturally, there are signs of wear and tear – as is only to be expected on a tractor of this age. However, the engine ticks over far more quietly than previous Ford '10' series machines and there is no sign of oil going to waste – from either the motor or rear axle.
The reason for this smooth running and absence of milky engine oil is chiefly because Ford had sat down way back in 1985 and decided what needed to be done if it was going to build a successful tractor to replace the 10 series. The 'Tens' had sold well, and are now fondly remembered, but at the time were due for total replacement (rather than a less costly revamp).
This had prompted Ford to instigate the P358 programme to create a new range of more powerful tractors to pull the larger implements that were appearing on the market.
The engineering parameters for a new engine to power these machines were not set out until two years later, when a team was assembled at Basildon for an intense three-week brainstorming session.
Prototype engines
From these meetings and reviews there arose a 'Genesis' engine project, which aimed to create a pair of new four-cylinder motors, along with a six-pot version – based around a common 1,250cc displacement for each cylinder.
Incredibly, the first prototype was ready within a month of approval. True, it was something of a chewing gum and duct-tape affair, but it ran. It also incorporated many new features, including internal reinforcements between the block and cylinder wall. These extra supports dampened vibration and, hence forward, the old bugbear of block porosity was condemned to the history books.
At some point during the engines' development it was decided to make a short-stroke version (of both). This was achieved by reducing the crank throw to 112mm, resulting in 'square' engines (having a bore and stroke of equal size).
By doing so the six-cylinder unit became a 6.6L block and it is this which is fitted to the Ford 7840. Although that version shared the same dimensions as the outgoing TW motor, it was quite new. What's more, in the 7840 it was seriously unstressed at 100hp.
Another innovation first seen on the 40 series was an electronic semi-power-shift. Available only on SLE versions, it was the major item that set these better-specified models apart from their SL counterparts.
The system was based around a four-speed 'box' with a high and low range. Moving between the four gears was achieved with an electronically-controlled hydraulic shift system, while swapping ranges still depended on a mechanical clutch and hand selection.
A further high/low lever doubled up the total number of speeds to 16; an extra eight gears in each direction were provided by a creep speed option (which is also fitted to Martin's tractor).
Further electronics were introduced with a fully digital dashboard and in the hydraulic system, where draft control was actuated by lower link sensing (connected to an electronic control unit, which adjusted the height of the link arms accordingly). The oil was supplied by a variable-displacement pump that automatically adjusted its output, according to requirements.
The '40' series tractors were originally launched in October 1991, the same year that Fiat purchased the remaining 20% of New Holland from Ford. In 1995, the cab was upgraded and the steel mudguards were replaced by plastic mouldings.
The longevity of plastic components was often questioned when they were first fitted to farm machines. However, these items have survived remarkably well on Martin's tractor. It was also at this time that the Fiatagri 'leaf' badge first appeared and the Ford name all but faded from the bonnet.
So, it was in the 1980s that Ford got serious about 'designing' tractors, as well as producing them. Along with its stable-mates in the range, this 7840 (pictured) is a striking example of the fruit of that new philosophy.
The influence of New Holland, which insisted that the designers listen to customers rather than just the salesmen, can be clearly seen. After 22 years of use it is still solid and reliable; in it we can clearly see the progression from the old Ford to the contemporary New Holland.
Martin has never found it wanting and praises its engine, which has always had enough power on tap for when the going gets sticky – with a slurry spreader or baler.
It is, though, a large tractor for its power and, while that renders it a stable platform for the loader, it takes up a good deal of room in a tight yard – his other main reason for moving it on. It's currently advertised on DoneDeal.